Inscription

Pour vous inscrire, veuillez remplir le formulaire ci-dessous
et l'envoyer par email ou courrier à l'adresse suivante.
Merci
To register, please fill in the form below
and send it by email or post to the following address.
Thank you
Helen's Dance
104, avenue Victor Hugo
L - 1750 Luxembourg
E-mail: hedance@pt.lu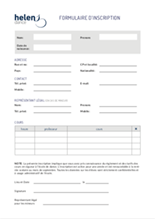 Télécharger fiche d'inscription
Téléchargez le formulaire (PDF) et ouvrez-le par exemple avec Adobe Reader.
Vous pouvez également remplir le formulaire confortablement sur votre ordinateur.
Download the form (PDF) and open it with Adobe Reader, for example.
You can also fill out the form comfortably on your computer.  
Pour toute demande d'information générale ou d'informations complémentaires, veuillez utiliser notre formulaire de contact.
For any other request or additional information, please use our contact form.
Conditions - Inscription
La signature du formulaire d'inscription engage l'élève ou son représentant légal à l'observance du présent règlement. L'inscription se fait pour une année scolaire, c'est à dire pour deux semestres allant de septembre à février et de février à début juillet.
Les inscriptions en cours d'année scolaire feront l'objet d'une facturation calculée au prorata des leçons suivies durant la période en cours.
Une désinscription des cours est obligatoire soit par écrit soit par courrier électronique (hedance@pt.lu). Dans le cas contraire le paiement des cours reste exigible jusqu'à la fin de l'année.
---
The signature of the registration form commits the student or his legal representative to the observance of these regulations. Registration is for one school year, i.e. two semesters from September to February and from February to early July.
Enrolments during the school year will be invoiced on a pro rata basis according to the lessons taken during the current period.
Unsubscribing from courses is mandatory either in writing or by e-mail (hedance@pt.lu). Otherwise, the payment of the courses remains due until the end of the year.
Conditions - Tenue de danse
Babyjam 1/2/3 justaucorps rose, collant blanc, chaussons roses.
Ballet 1, 1-2, 2 (enfant) justaucorps blanc, collant rose, chaussons blancs.
Ballet 2-3 justaucorps noir, collant blanc, chaussons noirs.
Jazz (street-Jazz) (enfant) pantalon jazz noir, chaussures jazz noires, t'shirt.
Pour tous les autres cours: vêtements permettant un ample mouvement.
Chaussures adéquates pour chaque type de cours.
Les chaussures de rue et les chaussures à semelles noires ne sont pas tolérées
---
Babyjam 1/2/3 pink leotard, white pantyhose, pink slippers.
Ballet 1, 1-2, 2 (child) white leotard, pink tights, white slippers.
Ballet 2-3 black leotards, white tights, black slippers.
Jazz (street jazz) (child) black jazz pants, black jazz shoes, t'shirt.
For all other courses: clothing allowing a wide movement.
Suitable footwear for each type of course.
Street shoes and shoes with black soles are not tolerated.