Inscription

To register, please fill in the form below
and send it by email or post to the following address.
The inscription becomes effective after the confirmation by the school.
Thank you
Helen's Dance
104, avenue Victor Hugo
L - 1750 Luxembourg
E-mail: hedance@pt.lu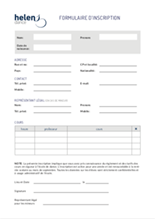 Download the form (PDF) and open it with Adobe Reader, for example.
You can also fill out the form comfortably on your computer.
For any other request or additional information, please use our contact form.
> CONTACT FORM <
> MORE INFORMATION <
Conditions - Inscription
The signature of the registration form commits the student or his legal representative to the observance of these regulations. Registration is for one school year, i.e. two semesters from September to February and from February to early July.
Enrolments during the school year will be invoiced on a pro rata basis according to the lessons taken during the current period.
Unsubscribing from courses is mandatory either in writing or by e-mail (hedance@pt.lu). Otherwise, the payment of the courses remains due until the end of the year.
Conditions - Dance outfit
Babyjam 1/2/3 pink leotard, white pantyhose, pink slippers.
Ballet 1, 1-2, 2 (child) white leotard, pink tights, white slippers.
Ballet 2-3 black leotards, white tights, black slippers.
Jazz (street jazz) (child) black jazz pants, black jazz shoes, t'shirt.
For all other courses: clothing allowing a wide movement.
Suitable footwear for each type of course.
Street shoes and shoes with black soles are not tolerated.